El Dorado, AR Barbecue Restaurant
JJ's BBQ
JJ's BBQ guarantees unique sauces and seasoned spices in the El Dorado, AR area. Established in 1990, our barbeque restaurant offers a wide selection of your favorite dishes. With exclusive recipes, JJ's BBQ is your source for mouthwatering steaks and plates!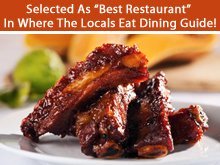 Our Menu Includes:
Appetizers and salads
Dinner plates and sandwiches
Ribs and pound meats
Yardbird and burgers
All you can eat
Family meals and kids' stuff
Sides and desserts
Lunch menu and steak night
Catering services are available. You can also purchase our famous sauces online.
Contact JJ's BBQ today at 870-862-1777 for more details.
Hours of Business:
11:00 am – 8:00 pm Monday thru Thursday
11:00 am – 9:00 pm Friday

Methods of Payment: